Robert Fathauer created this limited edition digital print titled "Looking Through Time" in 2005.  It features a reversible portrait of a man that can be seen as two different faces when viewed normally and in the mirror.  Fathauer found inspiration for this design in the work of Rex Whistler who created a series of very exceptional inverted faces.  The photograph on the dresser features a young man with the caption "Bob at 20".  The reflected portrait shows an older version of the same man with the caption "Bob at 50".  In the span of 30 years, the man has lost all of his hair, grown a full beard, and added some wrinkles to his brow.
Regarding the hourglass, Fathauer explains:
An hourglass is symbolic of the passage of time, and appropriately is turned upside down when it is used. In the hourglass in the foreground, only a small portion of the sand has fallen through to the lower chamber, while in the reflected hourglass, more than half the sand has passed through.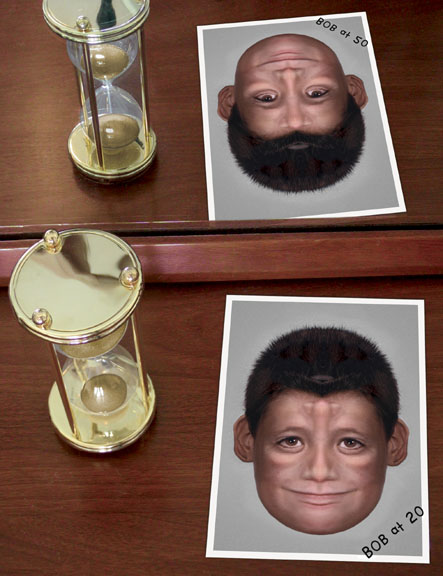 (via Robert Fathauer)