There is something special about this post… it marks the 300th post to An Optical Illusion!  A big thank you to our loyal visitors who have submitted material and provided valuable feedback since the inception of this blog.  We always love to hear your thoughts, so please let me know what you would like to see more (or less) of on future posts.  Also, if you have not already "Liked" us on Facebook or followed our Twitter feed, now would be the perfect time to do so!
Today's illusion is an oldie but a goodie.  It is the 3rd card in a series of 25 optical illusion cards published in 1926 by Major Drapkin & Co (London) which was a branch of The United Kingdom Tobacco Co Ltd.  The back of the card states the following:
This picture suggests unfairness.  Ask your friends and they will tell you that the winning boxer is very much taller than his opponent who is taking the count.  Actually such is not the case.  Both men are exactly the same height, as you can prove with the aid of a ruler.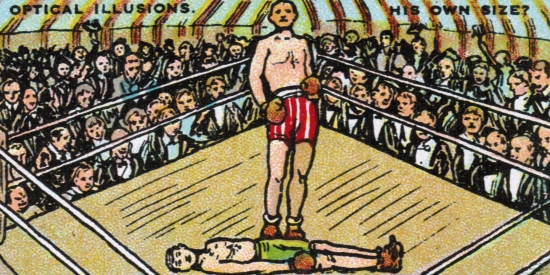 More vintage optical illusion cards can be seen at Vintage Ambiguous Tunnels and Length of Lines (View of Street).