Two words with opposite meanings coexist in the same space in the following ambigram from Michigan State University professor Punya Mishra.  Do you see both interpretations?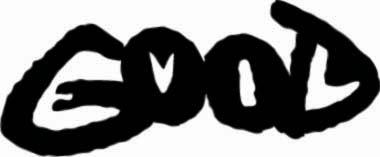 This type of image is known as figure-ground ambigram.  The concept of figure-ground refers to the cognitive ability to separate and process an image based on contrast (such as the black and white sections of the image above).
Continue reading this article to learn more about this ambigram directly from the artist.
We had the opportunity to speak with Punya Mishra about his Good / Evil ambigram.  Regarding the design in general, he remarked:
"Good / Evil is one of my most popular designs.   It has ended up in a couple of books and I have even seen it included in chain emails (with no credit given to me – which is kind of sad!).  This is also one of my favorite designs, both for its simplicity and how it was developed."
He recalls the following about the actual creation of the ambigram:
"This is one of the few ambigrams that actually came to me "whole" – in one flash in my mind's eye, without ever putting pencil on paper.  I remember I was driving to work having dropped my kid off at school  and stopped at a traffic light and BAM the design just came to me.  I still remember the exact spot that it happened.  I rushed to the office, ran upstairs, pulled out my computer and quickly created on screen – what I could clearly see in my head.  I showed the design to a couple of friends, and a few tweaks later (based on their input) it was ready!"