The best way for me to know what type of optical illusions you want to see more of is to hear directly from you.  One easy way that you can do this (without taking too much time out of your busy day) is to vote for each post.  If certain types of illusions are consistently getting high ratings, then I can make sure to feature more of those.  Of course, I always love hearing directly from visitors, so feel free to get in touch via email if you would like to offer suggestions, submit an optical illusion or discuss anything in greater detail.
Today's illusion is an anamorphic 3D sidewalk chalk art created by the very talented Kurt Wenner.  It features a fictitious hole in the sidewalk that reveals damage to the sewer system underneath.  The two police officers on their phones (calling for backup?) and the crime scene tape help to make the sidewalk drawing even more believable.  If I am not mistaken, I think that Kurt is the man kneeling on the right side of the photograph.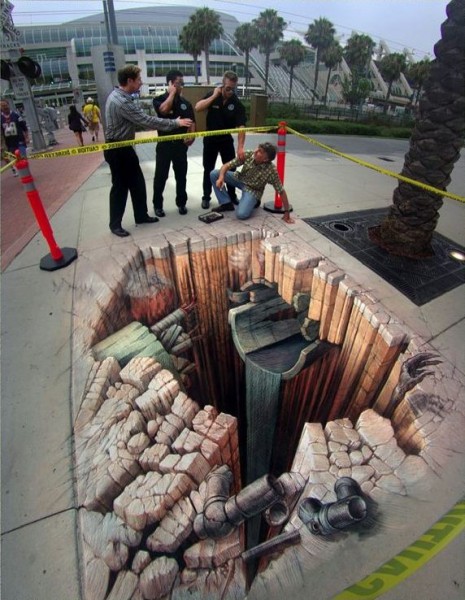 Also make sure to revisit Kurt's Spiderman sidewalk chalk art that was created for the tenth anniversary of Universal Studios Japan.